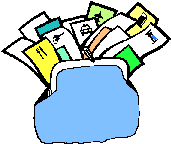 Fresh Paint
When I have leftover paint, I simply put the lid on and turn
the can upside down. (Make sure the lid is on tight). This
seems to keep that "skin" from forming and makes the paint
easier to stir when needed. I also turn new cans of paint
upside down if I'm not going to use them right away.

Refrigerator Care
I received a real bargain on a nearly new fridge at an estate sale.
It was so nice that I decided to cover the shelves with paper towels to keep spills from dripping. It's been over a year
since I purchased it, and it works great! I put two layers of
paper towels in each drawer and shelf. Occasionally, I need to
replace them, but otherwise, I haven't had a mess to clean up.

Also, years ago, an appliance repairman confided that much
damage is done to a fridge by not wiping spills that end up on
the seal at the bottom of the door. This is a main cause of
having to replace a fridge. The sugars erode the gasket,
causing the fridge to overwork. He advised cleaning this seal
from time to time to remove these sugars.




A Remote Problem

I called the manufacturer when my remote control kept failing
to perform. They suggested that I unplug the TV and then
reprogram the remote control. It did not consistently work.
When it did, it was short-lived.

I changed the batteries and reprogrammed the remote control
many times before I suspected the fluorescent light could be
at fault. I switched to a regular incandescent light bulb, and
the problem resolved! Later, a Google search confirmed that
fluorescent lights may disable remote controls.
Ink Cartridge Recycling

Every year more than 1 billion Inkjet Cartridges are used; most are thrown away. Recycle Ink Cartridges and get cash. Recycle inkjet cartridges is great for fundraising, helps schools and nonprofit organizations to fundraising success or make some extra cash for you or your company.
Take advantage of this free and unique Environmental Reclamation Service.

You are paid up to $3.60 for each ink cartridge and free shipping! freerecycling LLC is one of the fastest growing recycling companies for ink cartridges in the United States. Start today fundraising with recycling ink cartridges. You will need a printer to print out
free shipping labels, and free flyers (optional)
Click Here To Enter The Recycle Website
Cash Cow
Ever thought of "sharing a cow"? That's what I do with several
friends of mine. $300 to $400 feeds us all the meat we could
want for at least six months. And that includes steak!


Shopping the Corners




Look in the obscure areas for the store's clearance display.
The stores usually "hide" this display in a far corner for the
same reason that the grocery stores put milk in the corner
farthest from the checkouts. The more you need to walk through
the store, the greater the odds that you will make additional
purchases while you are there!

I suggest that you check the far corners of the store, or
simply ask a salesclerk where the clearance section is
located. I have gotten tremendous bargains over the years this
way!


Save on Floral Arrangements
Simply call the florist, give a rough description of what you
want, and name your price point. Wanting your repeat business,
the florist will create an arrangement that usually exceeds
your expectations. If not, try another florist next time. This
is also a good way to bypass FTD/Teleflora surcharges. Find
the phone number of a florist in the vicinity of your loved
one and call direct.

Unarmed Shopper
Don't carry your checkbook shopping. Instead, carry the cash
allotted to spend. If you see something that you really want,
you will have to go back and get it. More than likely, you
will not go back because you really don't need it.
Off the Top
It's not a new idea, but one that I decided to put into action
again this year. I take 10% off the top of my income and put
it into a "hands-off" savings account. I've done this in the
past, and it sure adds up fast. I never really miss it. Even
1% would be better than nothing!


Double Deals


I haven't paid more than 19 cents a bottle for shampoo,
conditioner, styling gel or hairspray in years. I buy most of
my health and beauty supplies in my local supermarket. By
combining double coupons with a buy-one-get-one-free special,
I often get hair products for free, even those in the
company's higher-end product line. I always stock up when I
notice a deal of this type.


Colorful Couch
For an inexpensive new look in your living room, try king-
sized sheets instead of expensive couch covers and chair
covers. I recently tried this to cover my chairs and couch.
It's not a "perfect" look, but it looks fine. The new bright
colors change the appearance of the entire living room. After
all, color is what it usually takes, and with some pillows, it
looks fine. I bought the sheets on sale for $20 (normal price
$79!). They are easy to take off and launder, as our cat likes
to sleep on the chairs. With the $20, I also got two
pillowcases and a top sheet, so I can use those with our
regular bedding.

A Loaner
I took out a $16,000 loan from my 401k to pay off extremely
high credit card debt. The term was two years at 6% and took
$326 out of my check every two weeks. The money was returned
with 6% interest from me gradually over two years. The effect
was that all my credit cards lowered the remaining interest
rates on my balances from the highest at 19.8% to my highest
fixed rate at 4.9%. My access to credit has greatly improved.
I pay almost no interest now. Before I was paying over $300 a
month.

It is amazing how fast credit card companies will reduce the
finance charges when they see high balances being paid off.
Just make sure that you don't run up new credit card balances
and ruin the plan!
Breakfast on the Run
My family loves breakfast burritos as a fairly fast way to eat
a good, hearty breakfast. They are really easy to make, and if
frozen, they will defrost and heat in a microwave. They are
made using a tortilla (we like the burrito size) and any
desired combination of scrambled eggs, chopped bacon, cubed
potatoes, leftover steak, ham, chicken, cheese, onions, and
more! Some of us like salsa and others just like salt and
pepper. I usually warm the tortillas, so they wrap easier. A
quick 30 seconds to one minute in the microwave insures
everything is hot.

Animal deterrent
When you put your garbage out, it attracts animals and before
the sanitation shows up it's spread all over your yard. I have
been putting all food scraps from egg shells to raw meat in an
empty bread bag in the freezer. Put out the bag on garbage
day, it will still be frozen and the animals can't smell it.

Stick-Ons
Carpet tiles look wonderful. They come in
many varieties and can be found at a discounted price at
carpet outlets. Home Depot has recently started carrying a
brand in a wonderful neutral plush carpet. The benefits of
using carpet tiles are many. There is no pad to put down, you
can easily install them yourselves (they are usually peel and
stick), you can be creative with the colors making patterns on
your floor, and if you have children or pets and a tile
becomes stained.simply rip up the tile and replace it with a
remnant piece. You save money on padding and installation.

Call around to different outlets to see what they can offer
you. My mom checked until she found a drastically reduced set
of carpet tiles. it looks amazing. Do a search
online for carpet tiles and you're sure to find more info and
pricing.
Clean a stubborn stain from a window. Spray the glass with Easy-Off Oven Cleaner. Wait several minutes, then wipe clean.
Grease Be-Gone
If you don't have a de-greaser handy, try this....

Clean grease from hands, by rubbing shaving cream
between your hands and it will dissolve grime
without water.
That Snag
Don't cut or pull that snag, instead take the tip of a
closed pen, a blunt letter opener or something similar
and "push" the snag back through to the inside of the
sweater. Knot the snag on the inside of the sweater and
help secure the knot with a small dab of clear nail
polish.
Paint Brush News
When you buy a new paintbrush - use it first for your
primer or undercoat - this means that if there are any
loose hairs in the brush they will work out, at least
then they can be picked or gently sanded out. When the
brush has has been used a bit - then use it for your
finishing coat.
Candles and Paint?
When you paint a window - rub an old candle onto the
glass next to the window frame. Afterwards you should
be able to scrape the dried paint off with a putty
knife It should come right off.

Mask It
If you use masking tape for a job - always remove it
before the paint is completely dry, otherwise you'll
peel off the fresh paint as well. The best masking
tape is the blue painters tape. I use it all the time.
Works Great!
Salt & Pepper shakers clogging up?

Keep them dry by adding a few grains of uncooked rice
to them. The dry rice will absorb any moisture present.
Dried peas work as well ! Also when they start rattling
excessively it's a good indicator that they need topping
up before they run out.
Peas in a Pod
To keep garden peas out of the pod looking fresh and
beautifully green simply soak them over-night in a
bucket of water with some ordinary baking soda
mixed in. This is what many restaurants with fresh
vegetable salad bars do.
To Clean Plasma Screens


Unplug the power cord. Eliminate dust by wiping screen with a microfiber cloth. Use it to also clean the remote control. Never use any solvent on the screen. Carefully vacuum the vents on the rear panel.

Sticky Locks on Doors
Rub a soft pencil along the key and insert it into the lock, do this a few times and the lock should be easier to move and the key should slide in and out easier.
Fast Tip
Dollar Rule - Use a dollar bill to measure. Every piece
of US paper money in your wallet/purse is 6" long. Folded
in half, and you have a 3" measuring stick, and so on. I
can't tell you the number of times I've used this trick
at Home Depot to get a rough idea of the size of
something.


While Working on your Computer
Patience is a Virtue!
Coleen's Computer Tips: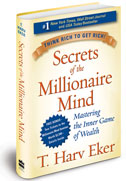 FREE BONUS Two Tickets to the Millionaire Mind Seminar, Worth $2,590 (inside the book.)
Give Me Five Minutes and I Can Predict Your Financial Future for the Rest of Your Life. Even Better, I'll ShowYou How to Turn it Around Overnight!"

In just five minutes I can identify what is called your money and success "blueprint." Each of us has a personal money and success blueprint
ingrained in our subconscious mind and it is this blueprint, more than anything else, that determines your financial destiny.

Your "money blueprint is simply your preset program or way of being in relation to money. This consists of your thoughts, feelings, and actions related to money.
Your financial blueprint consists of the "programming" you received in the past, especially as a young child. For most people, this would include parents, siblings, friends, authority figures, teachers, religious leaders, media, and your culture, to name a few. If you've been traveling in the wrong direction, I'm going to reveal how to set your blueprint for success. It's simple once you know these secrets.

Your blueprint is like a thermostat. If the temperature in the room is 72°, chances are good that thermostat is set for 72°. Is it possible that because the window is open and it's cold outside, the temperature can drop to 65°? Of course, but what will eventually happen is that the thermostat will kick in and bring the temperature back to 72°.

The only way to permanently change the temperature in the room is to reset the thermostat. In the exact same way, the only way to change your level of financial success on a permanent basis is to reset your financial thermostat, otherwise known as your money blueprint.

In Secrets of the Millionaire Mind, I reveal exactly what you need to do to reset your financial thermostat and program yourself for automatic success. And that's just the beginning. I also help you identify the patterns of thinking that have been holding you back, and what you need to do to turn them around. But there is one thing you need to understand first.
































Tips are for entertainment only. Results of using the tips may vary. Coleen Tudor
is not responsible for the outcome of tips.